Entities that perform work in the streets—from utilities or contractors accessing subsurface infrastructure to property owners repairing sidewalks—must follow certain procedures when undertaking such work and must meet restoration requirements following its completion.
About this Chapter
The way street work is executed impacts vehicular and pedestrian movement, the useful life of the street surface, and the experience of the street as a public space. The New York City Department of Transportation (NYC DOT) has adopted specifications and regulations stipulating how street work must be performed in order to minimize disruption and maintain the integrity of the street surface.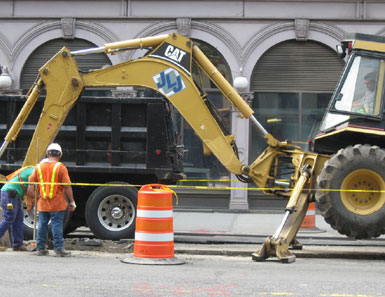 Street work at Third Avenue and Saint Marks Place, Manhattan as part of a larger Cooper Square area reconstruction project.
This chapter describes the basic steps for performing work in the street, for restoring the street after work is performed, and for responding to each type of notice or request that may be issued during a Highway Inspection and Quality Assurance (HIQA) inspection.