A temporary sidewalk closure while a sidewalk repair is underway.
Upon completion of work, sidewalks must be restored according to Highway Rules, Section 2-09(f)(4) and NYC DOT Standard Highway Specifications. Some of the requirements include but are not limited to:
Expansion Joints— Expansion joints must be placed at 20-foot intervals, expansion joint filler material must be placed to the full depth of the sidewalk, and all expansion joints must be recessed and sealed.
Concrete—must be poured and finished in accordance with NYC DOT Standard Highway Specifications.
Sidewalk flags—Must be 5'x 5' where feasibleAll flags containing substantial defects as defined in the Highway Rules must be replaced; patching of individual flags is not permitted.
Foundation Material—When replacing a concrete sidewalk, the foundation material may be retained and graded to the required subgrade. Any foundation material not meeting specifications must be removed.
Sidewalk Grades—Unless granted a waiver from NYC DOT, permanent sidewalks must be laid to the legal curb grades.
Transverse Slope—Sidewalks must be laid to pitch from the building line toward the curb. The minimum slope, calculated on a line perpendicular to the curb, must be 1" in 5', and the maximum is limited to 3" in 5'. Minimum slopes should be used wherever possible. The maximum transverse slope permitted for vault covers, gratings and other sidewalk structures is 1" in 5'.
Longitudinal Slope—The longitudinal slope of the sidewalk must be uniform and parallel to the curb at the curb's proper grade.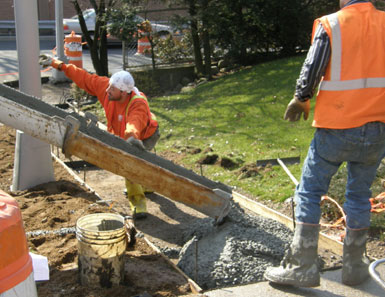 Workers pour cement during sidewalk reconstruction.
Corner Treatment—The two slope lines meeting at the intersection of the two building lines must drop from a common point at the building corner toward their respective curbs at a rate within the limits prescribed in the Highway Rules. If this is not possible, sketches or drawings must be submitted, in duplicate, showing the proposed method of treatment to NYC DOT for approval.
Pedestrian Ramps—When a corner is constructed, reconstructed or repaired, pedestrian ramps must be installed in accordance with NYC DOT Standard Highway Specifications found and in accordance with the most recent revision of Drawing H-1011 from the NYC DOT's Standard Details of Construction.
Adjoining Existing and New Sidewalks—Junctions and transitions between new and existing sidewalks must conform to specifications.