NYC DOT's HIQA unit inspects work sites for compliance with Title 19 of the NYC Administrative Code, NYC DOT Rules and Regulations, NYC DOT specifications and NYC DOT permit stipulations. HIQA performs inspections during active construction through its completion and up to the end of the Guarantee Period. HIQA may also inspect emergency street openings/excavations and utility access cover openings.
Upon inspection, HIQA may issue any of the following:
Corrective Action Requests (CARs) are issued to address conditions such as inadequate street restorations, missing or cracked street hardware or street cave-ins. Any corrective action required by the CAR must be performed within 30 days 

of the issuance of the CAR. For conditions that need immediate attention from the permittee, NYC DOT may issue Priority CARs [AKA Notices of Immediate Corrective Action (NICAs)]. Further information on responding to CARs may be found in the Highway Rules, Section 2-02(d).
Notices of Violation (NOVs)/Summonses are issued when there is a violation of laws, rules, regulations, specifications, or stipulations. NOVs carry a monetary fine and place the matter under the jurisdiction of the New York City Environmental Control Board (ECB). Further information on responding to ECB violations may be found on the ECB website.
Orders, given orally or in writing, may be issued by the Commissioner to cease and desist work or to perform remedial action. Failure to comply with an order issued by the Commissioner may result in criminal or civil penalties. Further information on responding to Orders may be found in the Highway Rules, Section 2-02(e).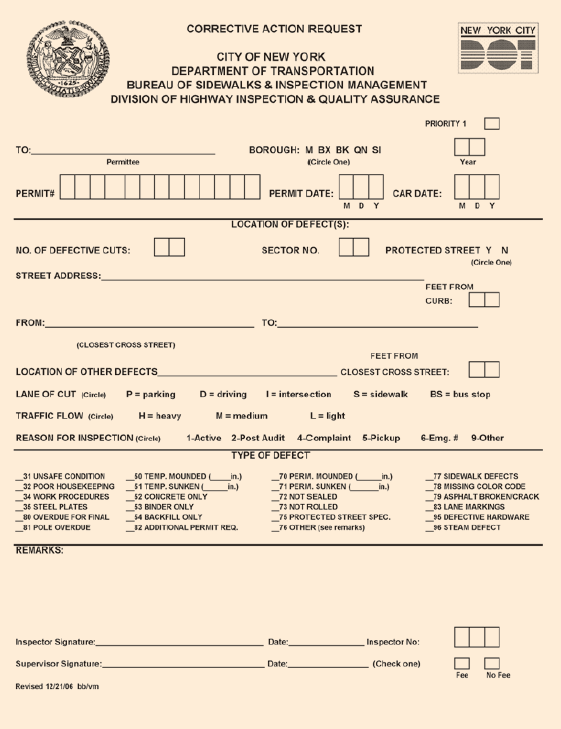 A sample Corrective Action Request Form