NYC DOT may revoke or refuse to renew a permit for any of the reasons listed below. The Highway Rules, Section 2-02(k) contains additional information.
For failure to comply with the terms or conditions of such permit, the Highway Rules or other applicable law in carrying out the activity for which the permit was issued;
Whenever there has been any false statement or any misrepresentation as to a material fact in the application or accompanying papers upon which the issuance of the permit was based; or
Whenever a permit has been issued in error and the conditions are such that the permit should not have been issued.
Prior to any permit revocation, NYC DOT will give the permittee an opportunity to be heard with not less than two days' notice.
NYC DOT may revoke a permit without affording the permittee an opportunity to be heard prior to the revocation if NYC DOT determines that an imminent peril to life or property exists. In this case, upon request of the permittee, NYC DOT will provide an opportunity to object to the permit revocation within five days after the request is received by NYC DOT.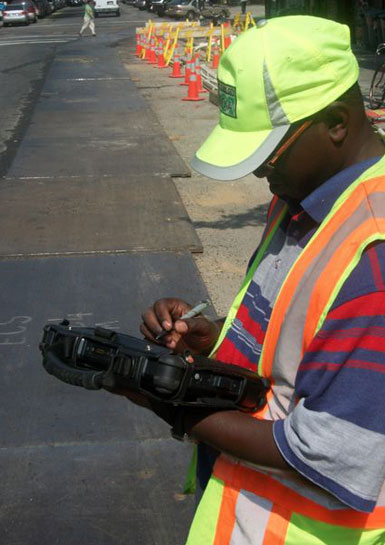 HIQA staff inspecting a work site.